The Path links
| | |
| --- | --- |
| Stories and organizations | Characters |
RP servers in WoW

NOTE: These are English-speaking (en-gb) RP servers; Last updated 18-Mar-2012.

Europe (en)
RP:
Argent Dawn (EU), Darkmoon Faire (EU), Earthen Ring (EU), Moonglade (EU),
Steamwheedle Cartel (EU), The Sha'tar (EU)
RP-PVP:
Defias Brotherhood (EU), Ravenholdt (EU), Sporeggar (EU), Scarshield Legion (EU),
The Venture Co. (EU)
US
RP:
Argent Dawn (US), Blackwater Raiders (US), Cenarion Circle (US), Earthen Ring (US),
Farstriders (US), Feathermoon (US), Kirin Tor (US), Moon Guard (US), Scarlet Crusade (US),
Sentinels (US), Shadow Council (US), Silver Hand (US), Sisters of Elune (US),
Steamwheedle Cartel (US), The Scryers (US), Thorium Brotherhood (US),
Wyrmrest Accord (US)
RP-PVP:
Emerald Dream (US), Lightninghoof (US), Maelstrom (US), Ravenholdt (US),
The Venture Co. (US), Twisting Nether (US)
What's new on World of Warcraft Roleplay
18-Nov-2015 - Updating frontpage

Holy sh*t! We've just updated the design...
ge=p rge}}

ref
Are you coming back for Legion?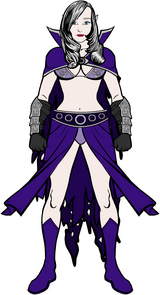 "Look, they're probably not going to miss what we take! They're dead!" - Scalesa, justifying her occupation
General Information
Scalesa is a Half-Elven sorceress and adventurer who serves the Alliance as a collector of treasures, but is ultimately only interested in herself and her own interests.