The Path links
| | |
| --- | --- |
| Stories and organizations | Characters |
RP servers in WoW

NOTE: These are English-speaking (en-gb) RP servers; Last updated 18-Mar-2012.

Europe (en)
RP:
Argent Dawn (EU), Darkmoon Faire (EU), Earthen Ring (EU), Moonglade (EU),
Steamwheedle Cartel (EU), The Sha'tar (EU)
RP-PVP:
Defias Brotherhood (EU), Ravenholdt (EU), Sporeggar (EU), Scarshield Legion (EU),
The Venture Co. (EU)
US
RP:
Argent Dawn (US), Blackwater Raiders (US), Cenarion Circle (US), Earthen Ring (US),
Farstriders (US), Feathermoon (US), Kirin Tor (US), Moon Guard (US), Scarlet Crusade (US),
Sentinels (US), Shadow Council (US), Silver Hand (US), Sisters of Elune (US),
Steamwheedle Cartel (US), The Scryers (US), Thorium Brotherhood (US),
Wyrmrest Accord (US)
RP-PVP:
Emerald Dream (US), Lightninghoof (US), Maelstrom (US), Ravenholdt (US),
The Venture Co. (US), Twisting Nether (US)
What's new on World of Warcraft Roleplay
18-Nov-2015 - Updating frontpage

Holy sh*t! We've just updated the design...
ref
Are you coming back for Legion?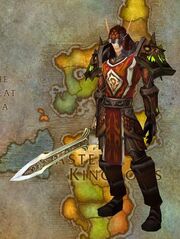 Ranger Lord Klien Blacksun is an enigma and the faceless leader of the Eversong Offensive. One of the last living members of the Blacksun line he has a history of war, betrayal, and dark magic. However his loyalty to Quel'thalas and the Horde and his prowess as a Ranger is unquestionable.
thumb|300px|right|One of the single bloodiest days in WoW, The Massacre at Tarren Mill involved about 250 Alliance against maybe 25 Horde.
Following this movie the Alliance forces moved on the Undercity and wiped it. Perdition (a guild on Quel'dorei) sacked TB and SMC with 19 people. We were wondering were the Horde had gone but we found out when we hit Orgrimmar after that... maybe 300 or more Horde battled over the front gate and because the Alliance had lost people to desertion. 200 < 300 in a choke point.
Ad blocker interference detected!
Wikia is a free-to-use site that makes money from advertising. We have a modified experience for viewers using ad blockers

Wikia is not accessible if you've made further modifications. Remove the custom ad blocker rule(s) and the page will load as expected.